Stainless Steel Metal Etching
Views: 20 Author: Site Editor Publish Time: 2015-03-10 Origin: Site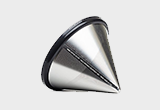 Stainless steel Metal etching may seem intimidating, but it is actually quite easy and can allow you to create unique one-of-a-kind designs. Anything you can draw, or any picture, photo, or pattern you like can be copied onto metal. Traditionally ferric chloride has been the mordant, or acid, that has been used to etch copper, brass, and bronze. However, it is relatively expensive and sometimes hard to find. Muriatic acid, or hydrochloric acid, works just as well and is considerably less expensive.


Muriatic acid can be found at your local hardware store, usually in the pool care section of the store. The resist is the portion of the design that won't be eaten away by the acid. Just about anything can be used as resist as long as it "resists" water. Permanent marking pens, nail polish, duct tape, vinyl stickers, Stazon stamping ink, etc. may all be used.
With the advent of photocopiers and laser printers, a technique was developed that allows the use of more complex designs. A high contrast, black and white image can be copied onto an overhead transparency and then transferred onto the metal with an iron. The focus of this tutorial will be using the overhead transparency method of image transfer and muriatic acid to etch metal.